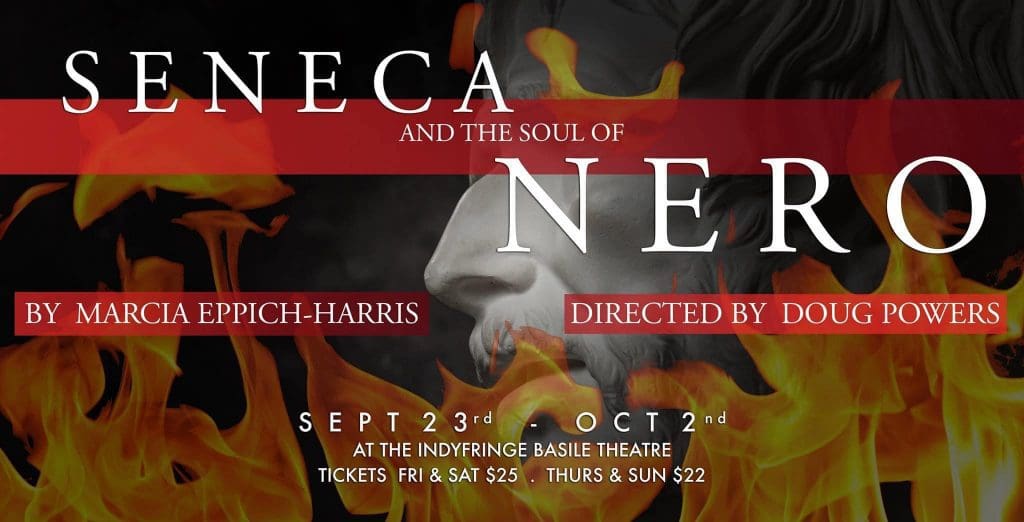 As theatre reopens, what sort of plays are you going to go see? Do you want to see something that you know will be pretty good — like a revival of an old Broadway musical? Or do you want to risk it and see something you've never heard of?
At Southbank, we want to produce a variety of plays, but we love new works and old works with a twist! Our first play, for instance, Seneca and the Soul of Nero, takes a look back to ancient Rome — an old topic, for sure. The difference between this play, and say, I, Claudius, is that Seneca is focused on connections to the contemporary world. Who are the people behind the curtain, pulling the strings? Are the great and powerful men and women really all that powerful? Or are they subject to the ordinary human frailties we all have to face? And what happens when they fail?
Taking on the contemporary world
What's compelling about plays like Seneca is that watching them makes us think about our own world in a new light — especially because new works are written with our own world in mind. For instance, what happens when you're confronted with unexpected shifts in power, like in the 2016 election? In Seneca, the unexpected rise of Nero after the murder of his step-father comes as a shock to the world. What happens to him and the people surrounding him seems vaguely familiar.
Many contemporary plays take on political and social issues that matter to us right now. When I was writing Seneca, Trump was being investigated, the impeachment trial(s) were ongoing, and senior officials in the White House were constantly trying to harness the president. All of the politics in the Trump era influenced the writing of my play. While revivals can be and certainly have been metaphorically connected to the contemporary moment, like the rash of productions of Julius Caesar after the 2016 election, contemporary artists are inspired by current events, too, and can speak to them even more directly. Isn't it our duty to listen to the history that artists are writing while we're living it? Doesn't that make you feel a little less alone?
Having it all
You don't have to give up standards of the theatre, like Les Miserables or Phantom of the Opera, in order for plays like Hamilton to exist. But without giving the spotlight to new works, we wouldn't have had the joy of discovering a musical like Hamilton. It's important to remember your roots — your Shakespeares and your Oscar Wildes — but listening to new voices — Nina Raine, Suzan-Lori Parks, Terry Guest, and others — enables us to find the spark of new stories and new energy in the arts. That feeling of discovery is part of the excitement that can only happen in theatre.
And you can have it all. There will always be a classic musical out there for your enjoyment. But what if you can have both — discovering something new while knowing that your standbys will be there, too? We think you can. And Southbank is here to help you have it all.
Seneca and the Soul of Nero will be at IndyFringe on the Basile Stage from September 23 – October 2. Tickets are available now!