Valerie's world is turned upside down when she learns she is being unjustly fired by St. Sebastian University. As she attempts to save her career from freefall, she discovers the corruption running rampant among her conservative, religious male colleagues. Meanwhile, Valerie's star student, Marina, is lured into sex work to pay her tuition. As the costs become too high to bear, Valerie and Marina find the seedy underbellies of their career paths exposed, but which profession is more corrupt isn't entirely clear. As religion, sex, and politics collide, both women must answer the question: how much should be sacrificed for a job?
(Content warning: abortion, abuse of power, sex work, workplace discrimination)
Finalist Epiphanies New Works Festival, Wild Imaginings, Waco, TX, 2021
Semi-finalist, Plays in Progress, Athena Project, Colorado, 2021
Semi-Finalist: Campfire Theatre Festival, Boise, ID, 2020
Join us at Fonseca Theatre for The Profession! Thursday-Sunday, September 15-25, 2022. Tickets are now available!
Meet the cast!
Meet the director!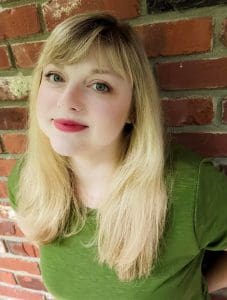 Southbank is pleased to announce the director of The Profession, Elisabeth Speckman! Elisabeth is a playwright, actor, and director from Indianapolis. She received her BA in Theatre and English-Creative Writing from Denison University and her MFA in Fiction from Butler University. She has served as both a visiting instructor and adjunct at Butler in first-year studies, intro to creative writing, academic writing, media studies, and screenwriting, as well as teaching Acting II at IUPUI. Her acting training includes the Yale Summer Conservatory for Actors, Second City Training Center Chicago, and the Michael Chekhov School. She has appeared in numerous productions in the Indianapolis area with Booth Tarkington Civic Theatre, IndyFringe, Bard Fest, Carmel Community Players, Spotlight Players, and Amalgamated Stage Productions, and won the 2015 Best Major Supporting Actress Award from the Encore Association. She has taught and directed theatre for over ten years, working with The Artists Studio, Fishers UMC, and CYT Indy, where she most recently directed Aladdin, Jr. and The Lion King, Jr. As a playwright, her work has been produced throughout the United States and internationally. She was a finalist for both the 2021 and 2022 Henley Rose Award for Women Playwrights; other honors include attending the Kennedy Center Summer Playwriting Intensive and serving as a reader on the national committee for the Bay Area Playwrights Festival. Her proudest accomplishment, however, is being a mother to her two sons alongside her husband, Chris.