Southbank is excited to announce the cast of our next play, The Profession, by Marcia Eppich-Harris and directed by Elisabeth Speckman! Thank you to all who auditioned! We have an incredible amount of talent in Indianapolis!

Valerie's world is turned upside down when the administration of St. Sebastian University denies her tenure. As she attempts to save her career from freefall, she discovers the corruption running rampant among her conservative, religious male colleagues and the way they are exploiting women, especially star student and sex worker, Marina. As the costs become too high to bear, Valerie and Marina find the seedy underbellies of their career paths exposed, but which profession is more corrupt isn't entirely clear. Gender, class, religion, politics, and capitalism collide resulting in a paradise exposed. Both women must answer the question: how much should be sacrificed for a job?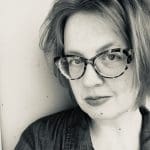 What are people saying about The Profession?
When and Where?
The Profession will be performed at the Fonseca Theatre from September 15-25. Tickets will be on sale soon, so watch our social media and website for forthcoming news!