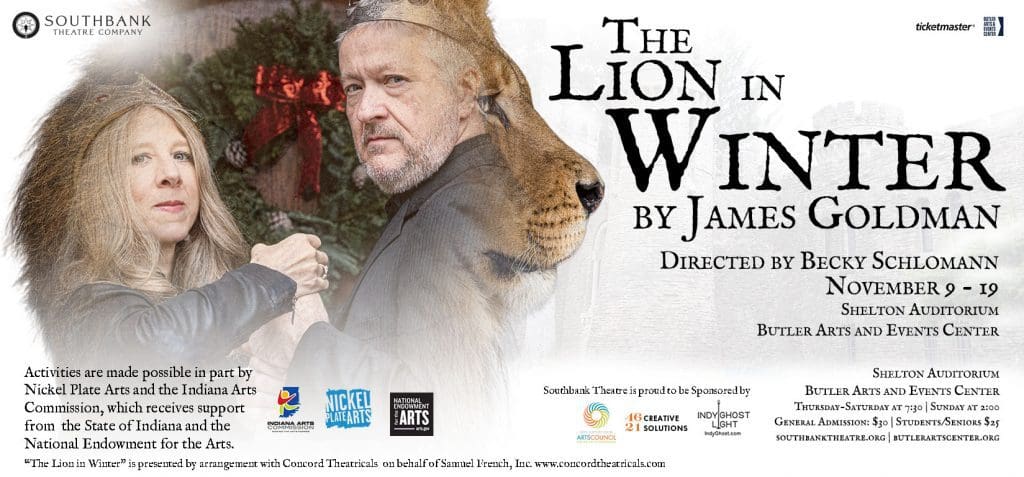 For our next show, Southbank Theatre Company proudly presents James Goldman's "The Lion in Winter," November 9-19 at Shelton Auditorium, Butler Arts and Events Center. Comedic in tone, dramatic in action – this historical masterpiece, directed by Becky Schlomann, promises to captivate audiences with its timeless themes and remarkable performances.
Set against the backdrop of 12th-century England, "The Lion in Winter" explores the complex dynamics within the royal family, as King Henry II grapples with the issue of succession. He invites his estranged wife, Queen Eleanor of Aquitaine, whom he has imprisoned, to the castle for the holidays. Eleanor, a formidable and cunning woman, has her own ambitions, while their three sons, Richard, Geoffrey, and John, also have their eyes on the crown, each with their own political and personal agendas.
As the family gathers for Christmas, a bitter and humorous power struggle ensues. The plot is thick with political intrigue, betrayal, and manipulation, as the family members scheme and connive to gain the upper hand and secure their futures. Palpable tension, vaulting ambition, and political aspirations collide as each monarch vies to control the line of succession.
First a Broadway success (1966), and later an Academy Award-winning feature film starring Peter O'Toole and Katharine Hepburn (1968), "The Lion in Winter" has had critical success across the board. Southbank's production features an all-star local cast with Doug Powers as Henry, Jean Arnold as Eleanor, Thomas Sebald as Richard, Jo Bennett as Geoffrey, Garrett Rowe as John, Miranda Nehrig as Alais, and Kaya Dorsch as Philip.
WHAT: "The Lion in Winter" by James Goldman
WHEN: November 9-19, Thursday through Saturday performances at 7:30 p.m., Sunday matinees at 2:00 p.m.
WHERE: Shelton Auditorium at Butler Arts and Events Center, 1000 W. 42nd St., Indianapolis.
TICKETS: $30 for adults, $25 for students/seniors, $20 for Butler students. Buy at the door or in advance, online, or at the Clowes Memorial Hall box office, Wednesday through Friday from 10:00 a.m. – 4:00 p.m. Tickets are available through Butler Arts and Events Center.
DISCLOSURE: In-person ticketing fees are an additional $4 per ticket (general admission total: $34 per ticket in-person), while online purchase fees add an additional service fee of $12.35 per ticket (Ticketmaster service fee: $8.35, Facility charge: $4.00) and a once-per-order processing fee of $4.10, making general admission $46.45 for one ticket, or $88.80 for two tickets, online. Credit card processing fees may add an additional charge. (Southbank Theatre Company does not receive any of these fees.)
"The Lion in Winter" is the second offering in Southbank's third season: "That Way Madness Lies," which focuses on relationships, family, and mental health through historical figures over different time periods. "We're thrilled to present this extraordinary play to our audience, especially in such a beautiful theatre," says artistic director, Marcia Eppich-Harris. "James Goldman's script is a masterpiece in itself, and the talent of our cast and crew will bring it to life in a way that is both timeless and relevant to today's politics."
Eppich-Harris added that the Indiana Arts Commission has provided a program support grant of $4,000 for the production of "The Lion in Winter." "We are very grateful to the Indiana Arts Commission for their support and appreciate how much they do for the arts in our state."
About James Goldman
James Goldman (1927-1998) was an American playwright, novelist, and screenwriter, honored with an Academy Award for the screen adaptation of his own play "The Lion in Winter." He is also the author of the screenplays for "Robin and Marion," "Nicholas and Alexandra," and "White Nights"; and the book for Stephen Sondheim's stage musical "Follies." Goldman was born in Chicago and was a graduate of the University of Chicago before beginning postgraduate work at Columbia University in music criticism until he was drafted into the army during World War II. In 1961 his whimsical play "They Might Be Giants," about a man who believes he is Sherlock Holmes and is attended by a psychiatrist named Dr. Watson, was produced by Joan Littlewood in London and 10 years later was turned into a film starring George C. Scott and Joanne Woodward and directed by Anthony Harvey, who also directed the 1968 film version of "A Lion in Winter." Mr. Goldman's first play on Broadway was a comedy about life in the army, "Blood, Sweat, and Stanley Poole" (1961), written with his brother William. Other work for the stage includes "A Family Affair," a collaboration with John Kander, starring Shelley Berman; Evening Primrose (1966), his second collaboration with Mr. Sondheim; "Oliver Twist" (1982), "Anna Karenina" (1985), "Anatasia: The Mystery of Anna" (1986), and "Tolstoy" (1996). Mr. Goldman's novels include "The Man from Greek and Roman" (1974), "Myself as Witness" (1980), and "Fulton County" (1989).
About Southbank Theatre Company
Southbank Theatre Company is dedicated to enriching the Indianapolis community — and beyond — through producing plays and musicals by playwrights of historical and contemporary significance. Southbank believes it is an honor and our duty to provide opportunities to diverse artists of all backgrounds. We embrace you as you are, whoever you are. All are welcome at Southbank! Learn more at Southbanktheatre.org.
Questions? Contact us at info@southbanktheatre.org