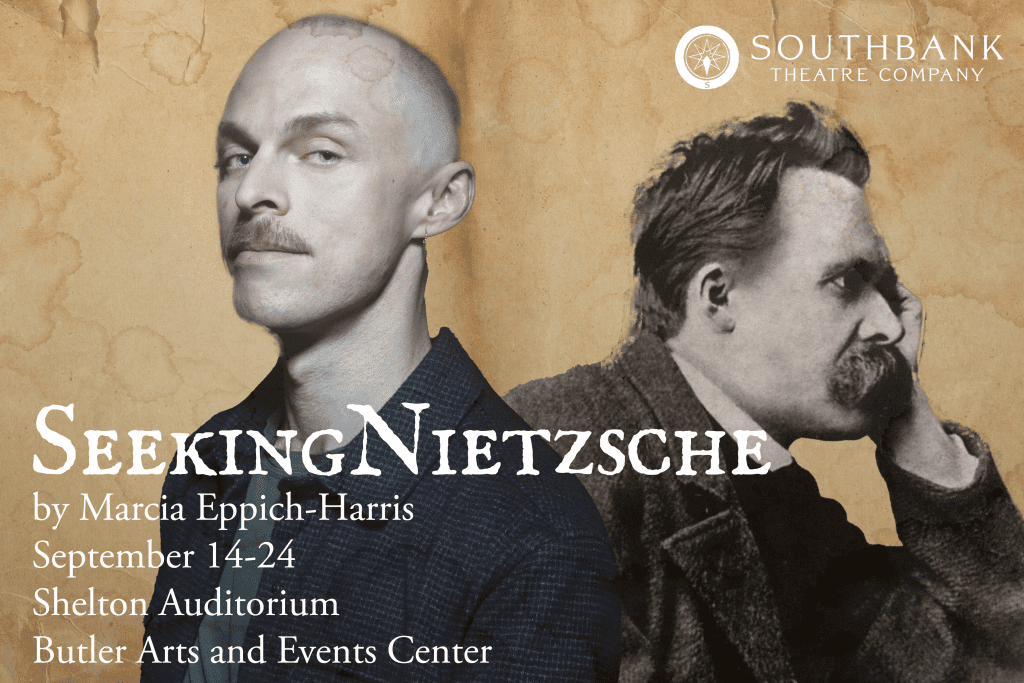 Our third season — "That way madness lies" — commences with Southbank's world premiere of "Seeking Nietzsche" by Marcia Eppich-Harris. Tickets are on sale now for eight performances of the play, September 14-24, at Shelton Auditorium at Butler Arts and Events Center.
With the nationalist composer Richard Wagner as Friedrich Nietzsche's surrogate father and the Nazis' appropriation of Wagner's music and Nietzsche's philosophy, many have questioned whether Nietzsche and his works are on the right side of history. "Seeking Nietzsche" not only ponders Nietzsche's legacy—it also interrogates modern society and the morals we claim to live by.
WHAT: "Seeking Nietzsche"
WHEN: September 14-24, Thursday through Saturday performances at 7:30 p.m., Sunday matinees at 2:00 p.m.
WHERE: Shelton Auditorium at Butler Arts and Events Center
TICKETS: $30 for adults, $25 for students/seniors (Note – Ticketmaster charges additional fees with online purchase.) Buy at the door or in advance, online, or at the Clowes Memorial Hall box office, Wednesday through Friday from 10:00 a.m. – 4:00 p.m.
When Nietzsche falls into madness in 1889, his nationalist sister, Elisabeth, takes over the management of his literary estate, but knowing that the siblings disagree on just about everything, Nietzsche's friend, Lou Salomé, takes it upon herself to write about Nietzsche's work and reveal his inner psychology. Meanwhile, Elisabeth outlives Nietzsche by thirty-five years and becomes close to Hitler. Influenced by Nietzsche's theory of eternal recurrence, as well as his madness at the end of his life, the narrative jumps back and forth in time to tell the tale of the ever-suffering philosopher.
"The story is told out of chronological order to simulate the way memories play out in our minds," Eppich-Harris said. "Nietzsche was in a state of madness for 11 years until he died, and the action of the play is meant to be entirely in his head: the past, present, and future—even prophetic true stories."
Modern philosophers have said that Nietzsche's influence has had an impact on almost every aspect of the modern world. Eppich-Harris agrees. "His beliefs about being a free spirit, overcoming the self, and morality—Christian morality in particular—are both fascinating and challenging," Eppich-Harris said. "Nietzsche is to Christianity what Marx is to capitalism. I find that critique extremely valuable, especially in this moment in America. When Christian values are used to strip away individual rights, as they have with reproductive healthcare, trans healthcare, and book censorship, it's time to examine those values and the hypocrisies of their champions. We need Nietzsche now more than ever."  
Evren Wilder Elliott directs the 90-minute show in his second collaboration with Southbank, having formerly played Nero in Eppich-Harris's critically acclaimed play "Seneca and the Soul of Nero" in 2021. Newcomers to Southbank, Lukas Schooler and James Mannan, play Nietzsche and composer Richard Wagner respectively, and Southbank welcomes back Amalia Howard ("Troilus and Cressida: The Musical) to play Elisabeth Nietzsche, and Trick Blanchfield ("Seneca and the Soul of Nero," "Rabbit," and "The Profession") to play Lou Salomé. Southbank is thrilled to stage the show at Shelton Auditorium, a beautiful 400-seat Greek-style theater at 1000 W. 42nd Street, Indianapolis, at the south campus of Butler University.
Content advisory: This show contains discussions of anti-Semitism, religious hypocrisy, sex, slavery, and mental health. Recommended for audiences age 16+.